Anglesey 19th / 20th August - Sunny - ish !!


Made the 3 hour drive to Anglesey to do some testing on the Friday, arrived teatime Thursday, about 10 mins after Simon who has been stuck on the M6...
Unloaded, and pitched new tent, thought we had better get that done while it wasn't raining. - It had been chucking it down all the way from Manchester and at one point we were doing 30 mph on the M56. Went in to "Town" to find something to eat, middle of August and just about everywhere was closed.

Testing - Friday:
Woke Friday morning to reasonable weather, dry track, went out for first session to try and work out where the track goes, second lap nearly fell off at Radar. did about 10 laps getting 1 or 2 seconds faster per lap. in the end got it down to about 1 mins ish per lap.

Went back in check pressures - pretty good at 30 / 32, and twiddled with front and rear damper settings. Went round similar to previous session, 2 - 3 seconds a lap faster.

3rd session went well more damper fiddling etc. down to 59 per lap.

After lunch did a session using my slicks, - just to see what they were like, 2 seconds a lap faster. It rained for the rest of the day after that and decided not to risk going out in the wet in case i fell off, - not a good idea to wreck the car in testing.

Qualifying - Saturday
Well sort of qualifying, waited an extra hour to go out and do 3 laps behind the pace car, grid order for the race would be decided on the current championship standing, yeah i would be 3rd row along side Tony Soper.. with a whole bunch of fast cars behind.

Race 1 - Saturday
Wet, Wet, Wet... had softened the front dampers as far as they would go - "fully floppy" and stuck a bit more air in the tyres, they were stone cold.
Had a very exiting time, - see video clip below. Trevor and most of the other Group A cars came through on the first or second lap, leaving a gaggle of golfs and Neil's Clio behind me. Had a bit of a tussle with Neil for a while, he kept arriving at the hairpin on the inside and I managed a couple of time to get round in front, then about lap 5 or 6 he came steaming up the inside, locked up and bumped the RHS rear quarter, - bugger, had only just fixed that from last time we came to wales (Pembrey last year).
Anyway scampered off, and spent the next few laps trying to keep 2 golfs and a Clio behind me, at one point Richard got past me in the golf and then promptly fell off... more about that later, had a decent lead on the Clio and golf by now, and as i was rounding the last corner on the last lap, i over cooked in slightly.... 180° one way, 360° back the other way, and then backwards up the hill, had to sit and wait for 4 leading fast cars to come through and just managed to get back on track and finish 33/1000 s in front of Neil

Race 2 - Sunday
Dry track - wasn't 100% sure to go with wets or dry, so changed one side to slicks and waited to the last 10 mins to make a decision, - slicks.
Started on grid where we finished in race 1 - 10th - very cool, 1 golf, 1 Clio and a load of guest cars behind.

Pace lap was OK, managed to keep up with guys in front, looked like a decent start, exiting Radar complex, Audi TT spun left and off the track, came back on straight in front of Richard's recently repaired golf, and got T-Boned. Red flag followed half a lap later as the golf had started to burn and was making a lot of smoke.
Re-start took a while and the lead cars where over the other side of the circuit, and took a while to reform, good rolling start again, Neil in the Clio got the jump on me and went steaming down the middle on the start straight. last i will see of him, Spent 7 or 8 laps chasing the guest Puma of Andrew Glossop, getting very close to passing on the hairpin on almost every lap. managed to completely out brake myself and gave the Marshalls something to laugh at as i almost went straight on at the hairpin, next lap or so I thought, "go up the inside", next lap I did exactly that, and all credit to Andrew, he saw we had a decent overlap and didn't turn in on me, - suspect Puma Vs Golf - i might has won that one... Managed to make the pass stick and came speeding out of the next corner a bit too quick and fell off backwards in to tyre wall - see photos below... Decided going in backwards was better than front on, managed to get restarted but Andrew was well away by then and a few temp related warning lights had come on, so I parked up to side of track near assembly area.

Saw Neil in the Clio again he came off at the exit of school corner across the grass and slap bang into Jim's Megane which was parked up on the grass, - 2 badly damaged Renaults.

Sorry to the marshals who pushed me up the hill, only to find that i could have started it and drove onto the paddock....



chasing the puma, - 8 laps until i could pass him.....

in front - on the grass.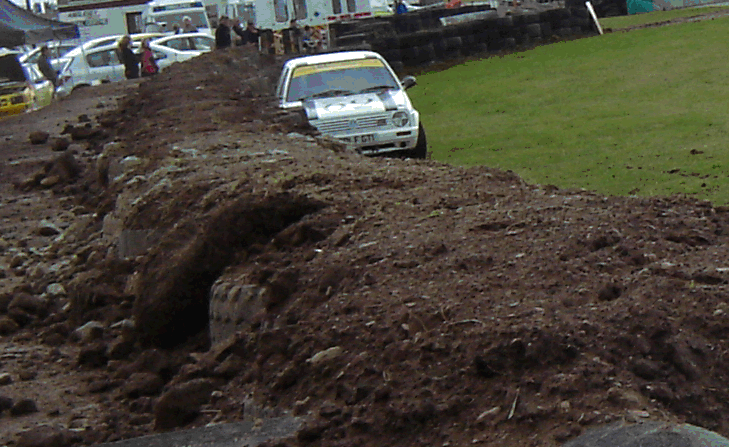 no longer in front - in the wall - oops.


runs a lot flatter now, less body roll - new springs.

still likes to lift a rear wheel or two...
Wet Start video (c) Trevor 2006


<home>
Last Updated: 09/26/2007 08:57 PM