Oulton Park - another hot one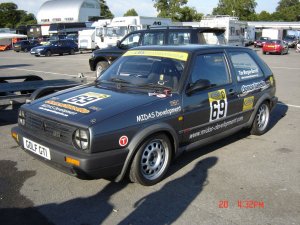 Testing Friday:

Went off Friday PM for a bit of testing, All was OK in first session - got round, still a bit worried about rear tyres rubbing on wheel arches damaged at Pembrey ... So for second session thought i would try some skinny tyres,

Whoa- - they were fun - went of 3 times in 5 laps.... back on the 195s for the last test session - managed a 2.26 - yeah I know - 3 legged donkey speed....but stayed on the track...

Had fun on Saturday, was busy taking car to scrutineering when i hear - "final call for practice" - had to strip off on entrance to scruit bay and put on my race gear... Car - no problems except scruit couldn't see rear lights in very bright sunlight.....

Practice:
Managed a whole 1 3/4 laps in practice - I was getting a bit keen with the loud pedal and managed to stretch the throttle cable so much it fell out of the pedal mounting... Andy, one of my visitors is the guy who rebuilt my engine - he managed to fix it in 30 seconds flat with a pair of pliers and a cable tie.....

Race:
Had a fun time on the race - hardly saw anyone - its kinda lonely at the back... but managed to get very consistent 2.26 / 2.27 per lap and apparently the commentator was giving me load of grief on the mic - fortunately (for him) i didn't hear any of it... yeah so what "improved 500% on qualifying times"

all in all a good day out - another 18 points for my tally... still leading Class D and 6th Overall.






<home>
Last Updated: 09/22/2005 05:24 PM