Brands Hatch - Revisited


Well here goes, back at Brands Hatch and it's red hot, weather much better than my last visit in March.. it's in the high 20s and feels a lot higher.

Went out to qualify having tried to get the engine back to the same condition as it was at Pembrey - ie working well without over heating...

Managed to qualify in my usual position - at the back , but get this, a whole 3 seconds per lap faster.. !!!! yippee, apparently 1 second is a pretty good improvement at Brands, just need to get another 6 or 7 "improvements" to be really competitive.
Had a bit of a concern - there are 4 of us running in class D - serous risk I may leave without a pot !

I suspect car and (more apparent) driver limitations may make this a lofty goal.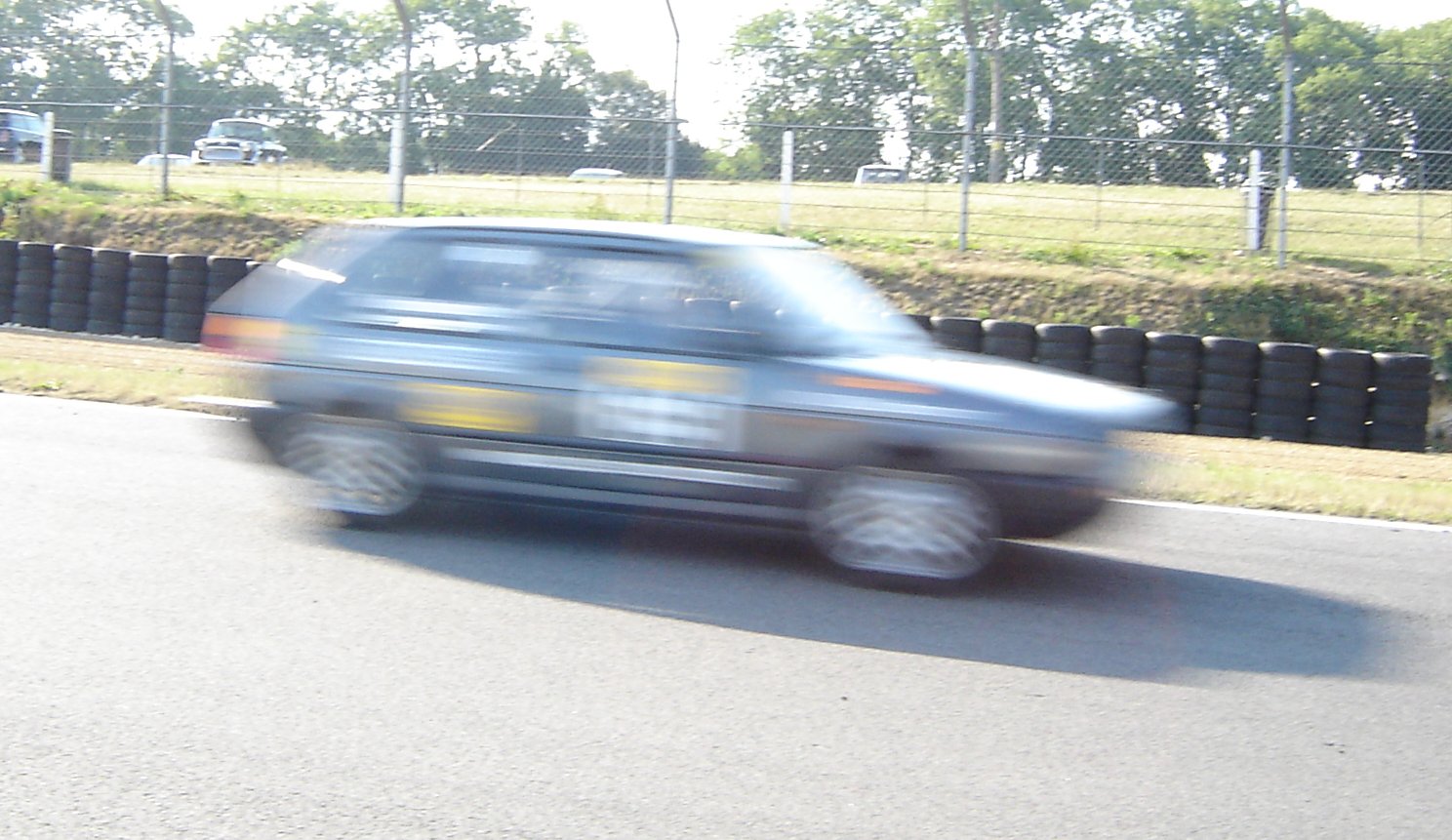 Going really fast - yeah honest - flat-out in 5th on start / finish straight, about to pile on the brakes for Paddock Hill Bend

(c) Anne-Marie Morgan-Barrett 2005.


Had one retiree after qualifying - fiesta with broken clutch - stifled yippee - he is way too fast for me....

Race 1

Started at the back as usual, managed to stay quite close to Julian (Fiat) on the occasions i saw him and then spotted him backwards in the gravel at the bottom of Paddock Hill. Right gotta finish to get a second - John in the MG ZR was gone - never to be seen again - except when he lapped me.... twice.

Managed to avoid all the collisions and stuff going on in front - poor old Ian got his Proton running nice and then got clobbered. - Didn't finish last, 2nd in Class and 18 points for my tally - now the scary bit - as a finisher I qualify for second race where i finished - row 10 of the grid.... yikes... about 8 faster cars behind me.

Race 2

Bit of a slow rolling start, got passed by Ian in his recently body-styled Proton before I got to the start line, and the rest of them got me going down Paddock Hill. - except Julian who was taking it easy this time, had him all over the back of me for about 2 or 3 laps, he caught me under braking into the corners and I managed to pull away on the straights, kept this up for a while, then a load of faster cars came through to lap me and I moved over to let them through, and Julian being the cheeky bugger he is, tagged on the end...

Managed to pass him back on the straight, but he got me again a lap or so later. Basically followed Julian round best I could for the rest of the race and got a 3rd in class and 16 more points.... Still leading Class D, and 6th Overall


Me coming up the inside to pass Julian - yeah honest...

(c) Anne-Marie Morgan-Barrett 2005

links to some better photos
<1> <2> <3> <4> <5> <6>




<home>
Last Updated: 07/16/2005 09:40 PM