"Slick" racing at Snetterton 5th August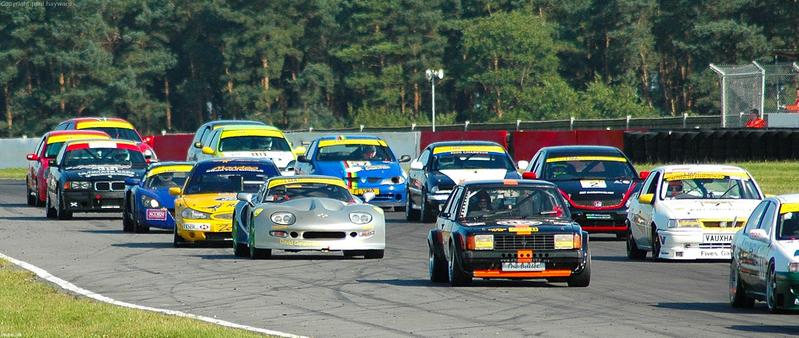 Made the 5 hour drive down to Snetterton to try and prove to the guys that I can actually drive the thing and that speed at Anglesey was not a one off. Arrived at circuit in good time Sunday morning for a nice leisurely 09;15 sign on and 11:15 qualifying slot.

Scrutineering - no issues as usual - even got myself a "can use video" pass...

Qualifying:
Went out to qualify at 11:00 passed noise test no problems, Simon even said that my turbo makes more noise than my exhaust - couldn't tell you can't hear a thing in the car - its that noisy. Sat in assembly area, started engine, went to put into gear to pull away and all the electrics cut out... not good, everyone else scampered off and left me with a busted car... Thanks to anonymous benefactor who had access to a 10mm spanner - i was able to make a fix and get out on circuit to qualify with 6 minutes left - get this first lap via pit lane 1.32 - same as race pace in the Golf last year, 2nd lap 1.22 and third lap 1.23.
That's all I managed - 13th on the grid - only 2-3 seconds off the pace of the really fast guys... i think everyone got a shock...

Spent next two hours trying to work out what had caused my electrical gremlin's, didn't come up with a 100% satisfactory answer so left my dodgy fix in place and ripped out the camera - the only electrical change made since last race.

Race:
Lined up in assembly area in position "12A", very unusual for me, the only time i have been this high on the grid was when we started in championship position at Anglesey in 2006. Surrounded by fast cars and in front of all the Renault Clio boys.
Usual rolling start - one of the better line-ups no major bunching etc... lights went out and i promptly nearly ran into the back on the ex Rydell Mondeo in front, backed off and got monstered by a whole load of cars from behind, lost about 6 places on that one. Caught a few places back on the way in and out of the next two corners and got 1 more on the straight. Able to take the chicane in 4th with my left foot planted on the brake, seemed to work, except i keep nearly running in the back of Clios, Fast through Corum, in and out of the chicane, but very little power on the exit, engine seemed to splutter and almost cut out - felt like fuel starvation problems, had 75% full tank, wiggled about a bit and it seemed to recover...caught up two cars who had passed me on the start finish straight.. this went on for the next 4 laps, lost places in the exit of the slower corners and was able to catch them backup on the straights...

On lap 6 notice black & orange flag on end of pit lane, wondered who that was for, next time round noticed my number, came in next chance, oil p**sing out of the back, pulling into the "hold in case you catch fire area" in pit lane and watch Tony Soper spin off on what i suppose must have been my contribution to the oil slick on the track.

so DNF - first and hopefully last of this season.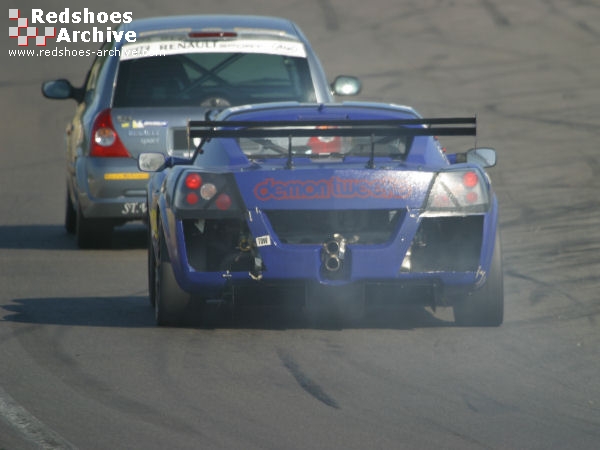 smoking

<home>
Last Updated: 08/10/2007 01:10 AM