14th May 2006 Silverstone - where is everyone ?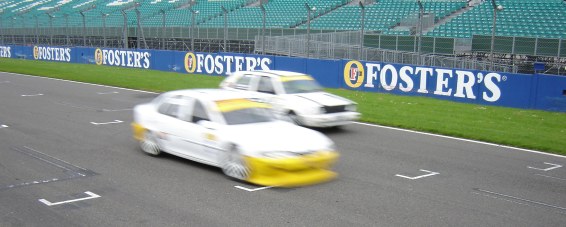 As you can see in the photo above, - not the best attended event in terms of spectators.... I think Stuart from LMA made the comment "the 10 spectators thought our race was very exciting".

This is only my second outing this season, the first not being a great success, only managed to run 20 minutes before breaking the car, but I managed to improve on last year's qualifying time, so the aim for Silverstone is the same, ideally beat 1:23.111 be the same time as Chris Brodgen last year 1.19 ish. - he was unable to attend as he was having car woes himself.

This was the first outing for the new (eBay special) trailer and that in itself wasn't 100% successful, - I got 200 yards from home and one of the wheel arches fell off !!! - great. Managed to pick it up and threw it in the back. - something to fix before i start racing :-).

I must admit to being a little nervous about Silverstone, last time I was here I managed to blow the head gasket on the last lap.

Sailed through scrutineering, as usual - had to give the scruit a lesson on how the new Lifeline 2000 electrical extinguishers work. got my sticker so i was happy. Went off to the assembly area in really good time and ended up on the third row - very scary... so scary in fact that i forgot to attach my transponder again, jumped out and attached it just as we were being told to go out for qualifying.

Qualifying:
Went round nice and slow for a while, just to reassure myself that the huge amount of camber on the rear wheels weren't gonna make a wheel fall off... seemed OK so i let it rip, and the first time I got from Anne-Marie on the pit wall i was already 2 seconds faster than last year. - Then the next was doing 1.20 ish so not bad in all, no times for about 5 laps as AM had cocked up the timing. She forgot the car is now white, not grey and missed me for a couple of laps.

Went round fine, no overheating, tyres were working well, had quite a funny moment when Naz the new guy came blasting past on the start finish straight and promptly went straight on at Copse, waved as I went past on the inside - cheeky I know, but it was likely to be the only chance I got .

Qualified in traditional place - last row of the grid, had Naz in front, Simon Jackson to the right, and one of the "Welsh Boys" alongside, Oh and a Super Tourer of Alex's behind - he had to qualify late.

Quite a long wait to race, so I took the opportunity to fix the wheel arch back on the trailer, didn't have my rivet gun with me, so I bolted it back together..... damn thing fell off again on way home :-) - Simon found it in almost the same place it fell of on the way down....

Race:
Not the best of rolling starts, got kinda left behind as Naz shot off in front, gotta buy a turbo car for next year - oh yeah I have done...
Went around pretty much on my own for the entire race, only punctuated by being passed by very fast moving Super Tourers, and passing the occasional spinner sat on the grass...

Was getting a bit hot towards the end, as I have removed all the heat shielding from the car - makes the floor, and transmission tunnel very hot....

Didn't manage to break anything this time out, and got, ... get this .... 1.19.909 fastest lap. Target was 1:19.624...








<home>
Last Updated: 05/17/2006 12:18 AM