Rockingham "Days Of Thunder"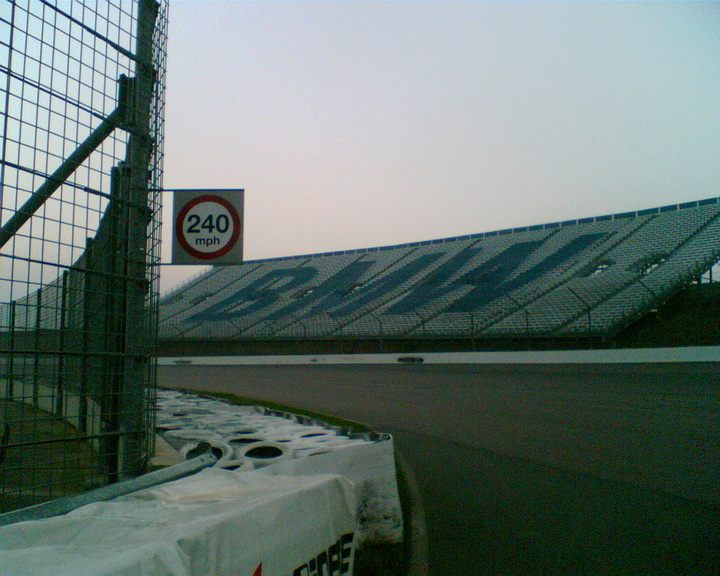 picture taken by Simon Jackson - exit from pitlane.

(c) Simon Jackson 2005


Qualifying:
Went round taking it easy, didn't want to end up in the wall at any point - looks kinda solid. Qualified in my traditional position. Just over 2.03 minutes for fastest lap. would be nice to break 2 minutes in the race.

Race:
rolling start was a mess, basically from the back it looked like the two lead cars got overtaken when the pace car went off, ie before the red lights went out. and then all hell broke loose as they started racing each other, us slower guys at the back were left to try and reform the grid, while the racing guys did another lap.

Spent most of the restarted race about 50 yards behind Julian, hoping he would fall off - not nice am I

Spotted the last lap marker - its kinda small when dangled from that high gantry, flashed my lights at the missus and in days of thunder speak - "put the hammer down".

Did the whole of the last lap with the rev limiter banging away and screaming the tyres into every corner, even managed to take the little chicane thing flat out in 4th, was gradually catching Julian, at one point nearly ran into the back of him at the hairpin, noticed the yellow car coming through to lap us - Julian seemed to hesitate for a second and I had him - about 50 metres from the line, i was on the slightly shorter line again on the inside of the last bend - and absolutely caned it, 6500 rpm in 4th - ouch... managed 1:59: something

Apologies to anyone in the turn 1 grandstand, the 3 screaming loonies were my missus and sponsors...

Managed to finish 3rd - another pot, have got 13 from 13 races now...

Have won Class D and i think 5th overall.




<home>
Last Updated: 12/19/2005 03:23 PM