Oulton Park 12th September 2009


First outing in the VX220 this year - finances and time have been short...

Arrived Friday PM to find that Simon had been testing and stuck his ZR into the barriers having fallen off on his own oil.. Know the feeling - Snetterton 2007.. Offered lots of cable ties and gaffer tape to fix it with...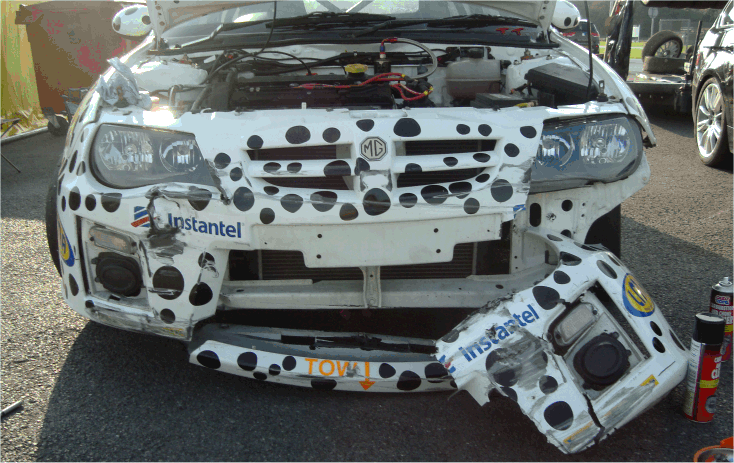 Got race central set up in reasonable time, did a few jobs on car - fitted under trays etc ... can't do this in workshop as it won't fit on trailer if I do... tyre pressures, oil etc. off to bar for beers and burger.
Have got new springs, new exhaust, more camber, lower suspension, fan on inter-cooler, mechanically attached wing - ie it is now bolted directly to the rear chassis... should give noticeable down force...

Passed scruit - no problems, gonna have to buy new suit, helmet, and harnesses next season - all expire end 2009 - ouch...

Qualifying - Shakedown !
Joined the queue near the back, went out swerving as much as allowed to get some heat into rear tyres..
Basically feels a lot more planted than last year... all temps and pressures OK, went off to try and do a reasonable lap ~ 2 mins would be nice.
Not a hope after 3 laps noticed Black & Orange flag, did it have my number on it ? - bottom end of car appeared to be hitting floor on full power - maybe too much rear wing..
Did another lap to check if it was my number - yeah its me !!!
Into pits after only 4 laps - damn under tray was flapping about under the car - making a hell of a racket... Off to paddock to let everything cool down and fix it. 2:10 qualify - right at the back, 5 seconds slower that Simon, who was having his own problems with handling...



Fixed under trays - missed out 2 bolts during our install process the night before - now securely fixed with big washers etc...

Race
Qualified 20th not last - an Imprezza qualified out of place on the back row, had Simon along side, and Yassa in front...
Rolling start wasn't the best one I have ever seen, front guys seemed to scamper away, managed to get myself in the right gear coming out of lodge and got the drop on Simon into the first corner and was in touch with 3 or 4 guys in front... one being Yassa in a pretty fast Charade GTi

Caught Yassa fairly soon, managed to get myself into a passing position on the exit of the hairpin / chicane area and was first into the second chicane having put myself over to the right hand side and hoping Yassa wouldn't turn in on me... had at least half car length in front so got away with that one... quick wiggle through the chicane, slight wiggle on exit as I got the power down a bit too quickly...

Made a pretty good getaway and was making progress on guys in front, a few laps later coming down cascades, managed to slightly out brake myself, and aggressive down shift ended up on grass, Yassa closed the gap and I didn't have a great deal of traction - grass was a bit wet... he caught me up and passed during that lap... wasn't able to catch him up and my clutch was now slipping quite badly, had a scary moment on the exit of hairpin into first chicane, Simon had blown his engine and there was quite a lot of oil... just before my braking zone for chicane, so had to take it easy, and exit was interesting picked up a bit of oil, and this made the back end very twitchy...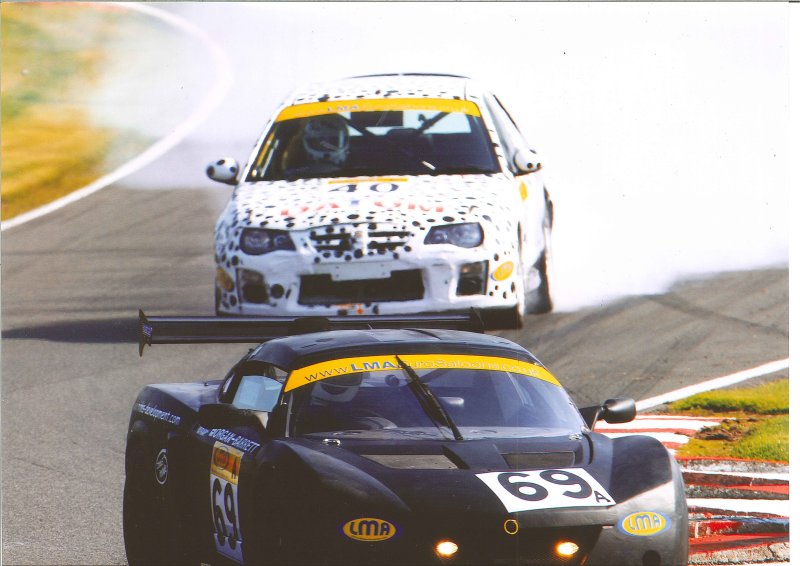 Simon's engine letting go - big style........


The smell of burning exhaust wrap was now replaced with an oily smell and quite a bit of smoke in the car, slowed down on the back straight to check temps and pressures etc, has a quick look in rear view mirror - no flames, so decided to carry on, no chance of catching Yassa, clutch slipping at anything more that 4000 RPM. Went round steady looking for a finish...

Last few laps got lapped by first 4 or 5 cars, had oil pressure problems - 4+ bar on full RPM, about 1-2, lower down the revs, saw checkered flag, limped back to park ferme and sat with the fire marshals for a while waiting for it to burst into flames - was OK, restarted OK, - bit of tappet rattle and limped back to race central sounding like an old sewing machine...

Investigation showed - Blown rocker cover gasket, and I think the clutch is gone - original when I got the car - built for 200 BHP, so 300+ is probably a bit too much for the old thing...

Next job - engine out, fix clutch, new gasket, test engine for damage, power wash engine bay, under trays... hope to be out for Snetterton..




<home>
Last Updated: 12/01/2009 01:43 PM