Brands Hatch 9th September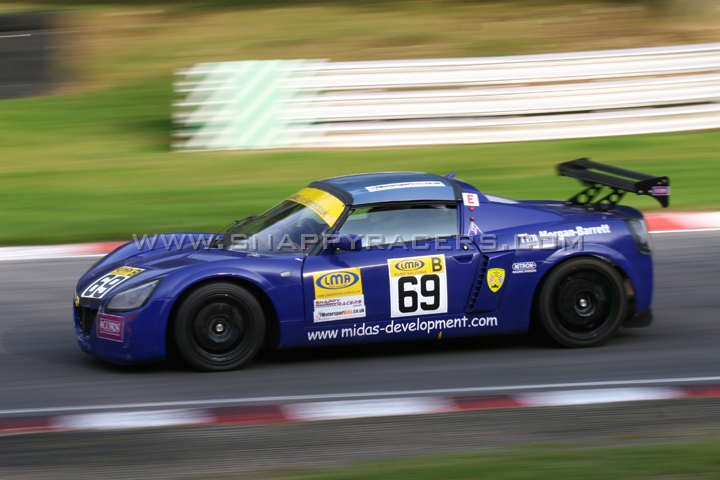 Having made a slight detour via Bedford on the way down to collect half a front clam for the VX, arrived on the paddock in good time to erect the tent etc, and get some food from the bar. Had a few beers and then spend the next couple of hours chatting with Lee Scott in Pongo central, went to bed at 01:00 AM - early for me...
Got up at 07:00 staggered about for a bit, cup of coffee and two smokes - raring to go.
Fitted slicks did all the usual checks and went off to scrutineering - no major issues, scruit suggested i put some bigger washers on seat mounts - good idea - will do for next year... was a big enough pain to get seat to fit in the first place...

Qualifying:
Spent ages in the assembly area having been called very early, turned camera on and went out for a blast... still not 100% happy with paddock hill bend - it scares the c**p out of me..
Followed Chris out in the CRX and was able to make a pass after a lap or so, got out of the way of a few STs before having a bit of a go... was able to give it full bore down the start-finish straight... damn it's fast.
Went round gaining confidence in brakes etc, and was able to pass a few people on the inside of the hairpin, out braking is so easy in the VX.
Spotted pongo on the side near pit lane, lap or so later session was red flagged for Vectra in the gravel at Paddock.. Sat in pits for 5 mins while cleared out stranded car, VX got hot and misfire reappeared. Had a bit of a mare in second 5 mins of session, misfiring on left hander after hairpin, not great for entry speed into Graham Hill. Able to set a 56.6 lap on second session despite misfire still able to pass people.

Race:
Qualified 21st, so not too near back. Got jumped again on rolling start, need to find a way of getting more heat into the rear tyres during the warm up lap. Once i got it going was able to go round corners a lot better, coming down hill after the hairpin, was greeted by the sight or a Clio and a Rover stuck together, has had an off and both came back on to clobber each other, followed Tony Soper through a gap between.

Tried to keep in touch with Tony for about 50 yards and then he was gone, went round at decent 57 ish pace for a while and then noticed a white Vectra coming up behind, put my foot down and got away clean... not much more in the way of excitement for the rest of the race, apart from the inevitable letting STs through.

Was toying with the idea of doing a pitlane drive through to let the guys behind catch up and then blast past them (makes them think they are being lapped ! ) decided against it and took the points.

Misfire stayed away following cleaning of plugs, spoke to the guy from Owen Developments, who suggested I was running the wrong temperature plugs. Order some different ones when I get home.

Not a bad day out, 11th over all and 5th in Class. Almost managed the 55 second target, but managed 10 seconds off my last year time on 1:06

bring on snett !





<home>
Last Updated: 09/12/2007 06:36 PM